When your friends move to a new home, it's always polite to bring them a gift when you go visit. While it's true you can buy something, if you create something for them they'll always think of you when they use or see that particular object.
Buying a new house is stressful enough, figuring out what projects need to be done 'now' and which ones can wait, what furniture to get, what appliances to buy, and so on. So, when it comes to all sorts of decorative pieces, there's certainly little budget and little time. This is where you come in as you can make them something pretty instead of buying something. Check out these 50 DIY housewarming gifts you can make pretty easily. 
Housewarming Gift Ideas
1. Votive Candle Holder
If you're wondering what cute gifts to give your friends who just moved to a new home, you could also take into account making them a votive candle holder. It's not extremely difficult to make and we have the guide right here on DIYs. 
2. Watercolor Paper Wall Schedule Board
Every house needs a little help to stay organized and any family needs that extra boost a wall schedule board can bring to the table. Thankfully, you can easily make your own and we know just how you can do this, so read our guide by clicking here. 
3. Boho Fringe Pillow Cover
When someone moves to a new home, they want to be sure they can decorate their homes, but with all the expenses they have, splurging on things like cute pillow covers isn't necessarily on the list. So, you can make them some boho fringe pillow covers that they'll love and you can learn all about them from our guide. 
4. Yarn Leaf Wall Decor
Next, we have a yarn leaf wall decor piece that you can make rather easily. Once more, this will be quite helpful as the new homeowners get to focus on the big things rather than the details of decorating their homes. Learn how to make a really cute wall decor piece from our guide. 
5. Twine String Wall Decor
In the chaos that follows moving into a new home, it's important to remind those living there about the most important thing – family. So, we propose you make them a twine string wall decor that spells out the heart of all things – family. Follow our guide here. 
6. Wine Cork Napkin Holder
DIY gifts are always cute, but sometimes they can also be useful and practical. A napkin holder made out of wine corks will be pretty easy to make, look nice, and be extremely useful in a home. Read our tutorial on how to make a wine cork napkin holder. 
7. Hoop and Yarn Wall Hanging
Wall hanging pieces can help fill in empty walls, give a home personality, and make everyone happier upon entering the room. We have a guide for a wonderful piece that you can happily gift someone at a housewarming party. 
8. Rustic Painted Pot
In some areas, it is traditional to gift plants as housewarming gifts, bringing new life into the house. So, while finding flowers to gift can be fairly easy, perhaps you want to make them a rustic painted pot. Once you're done with the pot, you can replant the flower and give it as a gift. Read our guide to how to make a rustic painted pot. 
9. Wine Cork Planter
Once more, you can gift people some really cute plants, but what about the planters they're in? Well, we propose you make your own wine cork planter to gift them. It's going to be a thoughtful gift, and one you spent time to make, while also pouring your soul into the piece. Get the tutorial from DIYs. 
10. Rustic Twig Frame
We all surround ourselves with pictures of our family and friends, reminding us of moments we lived together. So, why not bring a DIY photo frame as gift? Maybe you can take a photo of the new homeowners in front of the new home, have it printed for them, and send it over to them later on to remind them of the moment. Read the tutorial for a rustic twig frame and get started. 
11. Twig Monogram
Your friends have finally managed to buy a home, which we're sure was a lengthy and stressful process. So, now that they've settled in, you could make them a twig monogram wall decor piece. If they're married and share a last name, you could do the initial or that name, otherwise, maybe make them two – one for each of their names. Read our tutorial on how to make twig monograms.
12. Macrame Wrapped Mason Jar
Another beautiful piece you can make for your friends is a macrame wrapped mason jar – easy, simple in design, but oh so pretty. It can be the perfect place for them to place some tealight candles in to set the mood for a chilled out evening. Read our tutorial to find out how to make a macrame wrapped mason jar. 
13. Wine Cork Napkin Ring
Napkin rings are certainly not pieces new homeowners think about, but it's certainly something you could be making for them. Not only will they be using them for formal events later on, but they'll think of you every time they do it. Read our wine cork napkin ring tutorial and make some yourself. 
14. Rustic Memo Board
We all forget things – some of us more than others. So, what better gift for new homeowners than a rustic memo board they can place near the entrance so they never forget to grab their lunches, go to the doctor, or pay the bills. Get the tutorial for the rustic memo board from here. 
15. String Art Photo Holder
If you want to gift something cute to the new house owners, you could make them a string art photo holder so they can always remember the love they have for one another. If you already have a cool pic of them, add it to the object. Get the tutorial from DIYs. 
16. Modern Paint Chip Wall Art
Investing in art isn't really something new homeowners can do since they have so many things they have to get, from furniture to appliances to various improvements that need to be made to the home. We have a tutorial on how to turn a famous painting into a wall art piece with the help of paint chips. It's such a cool project and we're sure the recipients will love it. Find out what you should do by reading our tutorial. 
17. Whiteboard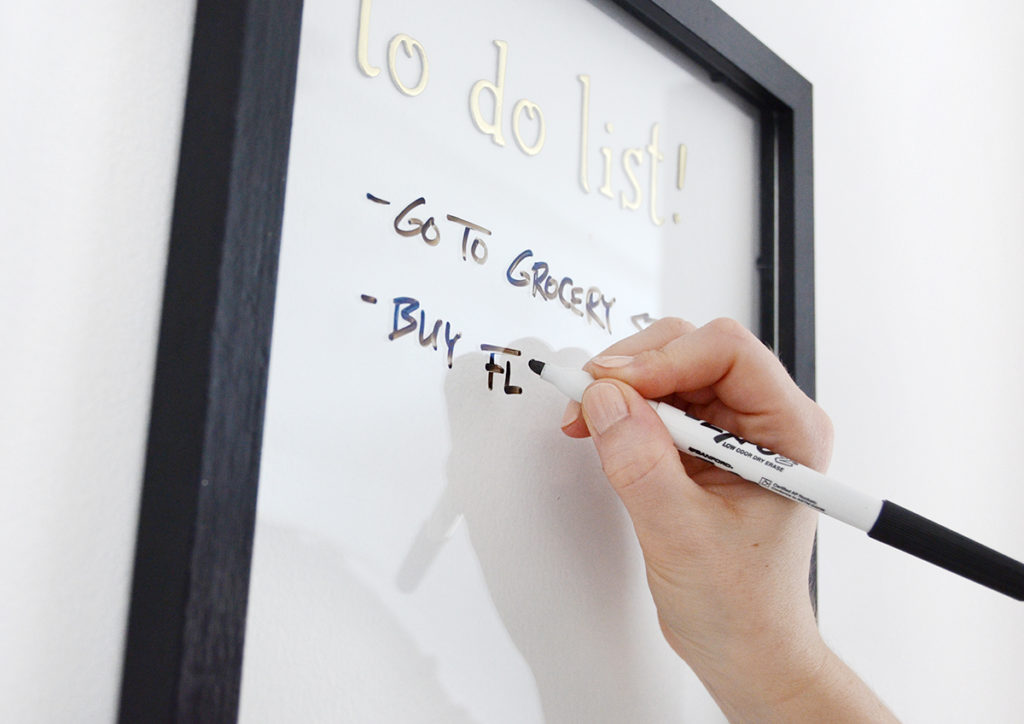 A really useful gift you could make for your friends is a whiteboard. They can hang it on the wall and make notes of whatever they have to do, things they need to buy, or leave messages for one another. Whatever they need, the whiteboard will provide. Check out our tutorial on how to make your own whiteboard. 
18. Candle Art
Candles are must-haves in every home and if you put your heart into it, you can create something pretty for them. Get a regular candle and some extra decorative pieces and create something beautiful. Read our tutorial on DIYs and make your own. 
19. Wine Cork Coasters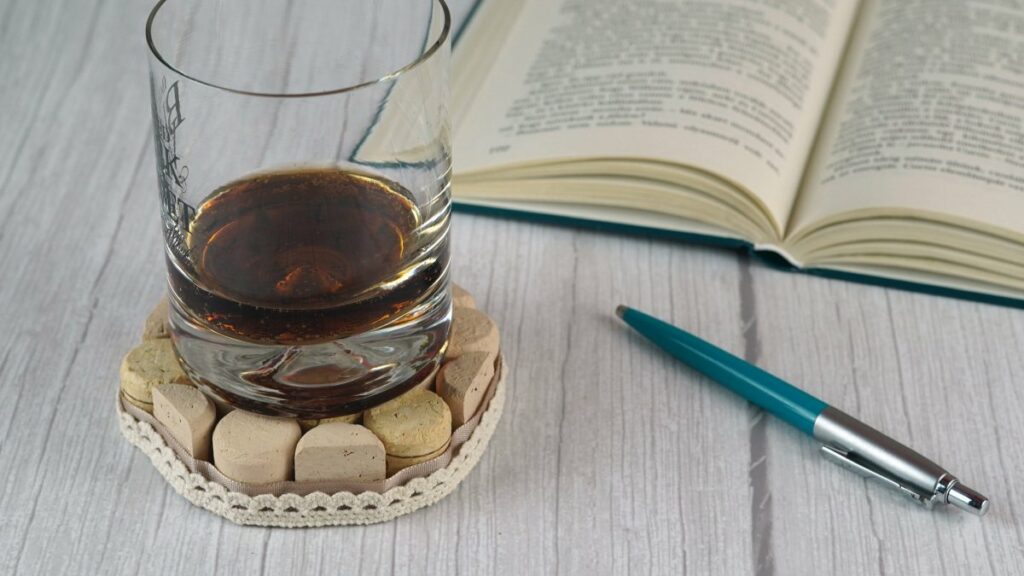 Every house needs coasters since you really don't want to damage any of the new furniture. So, we propose you make some coasters out of wine corks! It's such a cute idea and they look so pretty, so get started on how to make your own by reading our tutorial. 
20. Rope Mirror
How about you create a rope mirror? If you have a cute round mirror, you can get some thick rope and create such a beautiful design. We love this design so much and we're eager to make more of these to gift to friends. A housewarming party is a right place to give this to someone you care about. Read our tutorial on DIYs. 
21. Wood Trivet
Trivets are super important if you want to protect your countertops, so make someone who just moved into a new home a piece or two. Read our tutorial on how to make one of these, and show off your creations. 
22. Fall Flower Arrangement
Every house is more beautiful when it has flowers in it, so we propose you make a floral arrangement as a housewarming gift. Check out our tutorial on how to make this wonderful arrangement to hang on the wall. 
23. Tassel Wall Decor
Tassel Wall Decor pieces are so pretty that you need to make one yourself! It would be perfect as a housewarming gift, and we're sure your friends will think the same. Learn how to make this tassel wall decor piece by reading our tutorial. 
24. Wine Cork Pencil Holder
One thing that needs to be on every desk is a pencil holder. So, why not create something yourself? A wine cork pencil holder won't take long to make, but it's going to be a thoughtful gift you can present to your friends in their new home. Read the tutorial on how to make one yourself. 
25. Coasters with Lace Paper
Does anyone have enough glass coasters? We don't think so. So, maybe make your friends some coasters with lace paper that can look absolutely great and be super useful. Learn how to make your own coasters with lace paper by reading our tutorial. 
26. Sundae Box
Tip Junkie gives us a charming and fun idea that the entire family of the newcomers will love. This sundae box is perfect for those celebrating in the warmer months!
27. Welcome Wreath
teach. craft. love. shows us how to make a welcome wreath and bring it right over to the host or hostess of the party. DIY a front door piece that has that housewarming feel.
28. Essentials Jar
Then over at Oh Happy Day, you'll find another way to gift some basic home essentials. A large glass jar filled with some ready-to-use items is a great "welcome home" idea!
29. Rosemary-Infused Olive Oil
Make something tasty and useful for the kitchen. Follow along at Miss Buttercup to learn how to recreate this beautiful bottle.
30. Ultimate Basket
How To Nest For Less put together the ultimate housewarming basket. Filled with necessities and cleaning supplies, the new one in town will put all of these goodies to use!
31. Italian Mix
Over at Tasty Southern Chic you'll learn how to theme a gift basket just right. Essentials for the kitchen and some Italian-inspired bites thrown in make for quite the housewarming present.
32. Wooden Caddy
Fill up a shabby chic wooden caddy with goodies too. This is just another style route to take and you can get inspired by the mix over at Magnolia Market.
33. Canape Knives
Yarni Gras makes some snazzy, wine cork canapé knives that are too a great gift for this type of celebration. Wrap them up beautifully and present them to the new homeowner.
34. Mason Jar Planter
Over at Juggling Act Mama you'll learn how to make an adorable and charming mason jar planter complete with a fresh plant for the new homeowners to enjoy and love.
35. Garbage Disposal Refreshers
Here's a unique and fun gift to create for the new family on the block. Monika McMahon gives us all the details on how to make these garbage disposal refreshers.
36. Wooden Spoons
Farmhouse Chic shows us how to make some wooden spoons be the forefront of the gift. Stamp them yourself or add in some recipe cards, linen bags and more!
37. Love Pot
Maison de Pax filled a planter with so much love. It includes a plant and a handmade address sign that will make a beautiful decorative piece for the front porch!
38. Polka Dot Napkins
FreutCake made some gorgeous, golden polka-dot napkins that will be a beautiful addition to any home. And it's quite the fun project to try your hand at!
39. Lavender Pieces
Grab a basket and create a bathroom mix of sorts. With some lavender soap, hand towels and a lavender plant too Julie Blanner makes the most charming concoction on the list!
40. Cookies in a Jar
Give the gift of baking with help from this fabulous recipe idea. All you need is a mason jar to get started.
41. Box of Flavored Salts
Country Living shows us how to create a homemade box of flavored salts. It's a great housewarming gift that'll stick around your neighbor's kitchen or a while!
42. Lemonade Kit
Visit The Idea Room and learn how to make a homemade lemonade kit for your new neighborhood family to have fun making. Catch the tutorial now!
43. Hey There Doormat
Griffanie will show you how to make a personalized doormat. Help dress up the front porch with this adorable and thoughtful DIY project.
44. Cocktail Mixes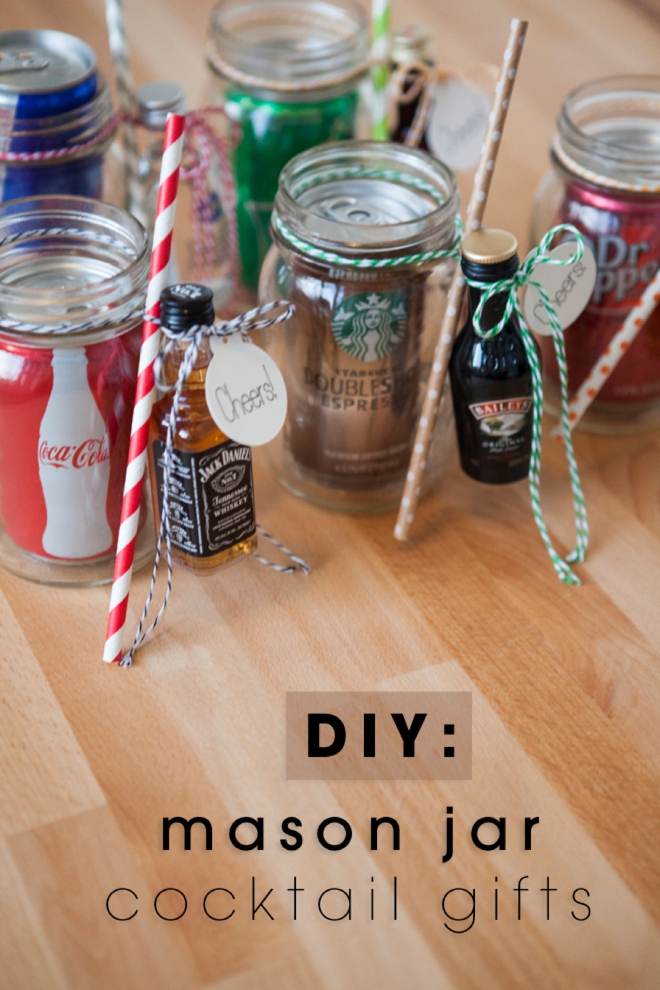 Visit Something Turquoise if you want to celebrate in a more adult way. These cocktail mixes are so much fun and charming too!
45. Wifi Password
They'll never forget their "free" wifi password with this beauty hanging on the wall. And it's so easy to recreate. (via For Rent)
46. Herb Garden
The new homeowners will likely find it quite nice to finally get that small herb garden in a mug they've been dreaming about for a while. Not only does it look adorable, but it's also useful. Get info on how to make your own from eHow. 
47. Air Freshener
Gifting someone candles can be nice, but how about a really cool air freshener you can make in your own home. With vanilla, lemon, rosemary, and a mason jar, you can make something really cool. Get information on how to make your own in-home air freshener from The Cards We Drew. 
48. Rope Baskets
Making rope baskets isn't necessarily the easiest thing to do, but with a bit of practice, you can make some really cool things. You can get the tutorial on how to make a set of rope baskets from Decor Hint. 
49. Unicorn Planters
If you have a friend who loves unicorns and just moved to a new home, maybe it's time you create a unicorn mason jar succulent planter for them! Not only is this piece super cute, but it's going to be so useful. So, get the tutorial from Creative Green Living. 
50. Painted Wood  Tray
Trays are something that belong in every house and they are a necessity. Take a simple plain wood tray and a few paints and create a beautiful design. Learn how to make a pretty design by checking out the tutorial from Fox and Hazel. 
Final Thoughts 
So, what are you making as a housewarming gift? We're sure your friends deserve a really cool project and we're sure they'll think of you every time they use or see what you gave them. Drop us a note and tell us what you chose to go for and maybe even share pics with the results over social media!